To Celebrate Bigfoot's 5th birthday at Sub Club, Roman Flugel comes over from Frankfurt.
Devoting almost his entire life to music via countless aliases (Alter Ego, Soylent Green, Roman IV), it's easy to see why the owner of the Ongaku, Klang and Playhouse labels is so highly regarded. For a lot of folks, it's true to say that Roman was one of the stand out DJs of the year – and the fact is, he has been for the last couple of decades. His discography is a ridiculous read with releases on Jack For Daze, Dial, Turbo, Robert Johnson, Cocoon…not to mention the stacked number of cuts on his own imprints.
This one is set to be a masterclass. Things are kicking off from doors opening with Chris taking on the first two hours, before Roman plays what is sure to be something none of us will forget anytime soon.
Ahead of the big 'Strike 5' Bigfoot's reflected back on some of their most memorable parties. Here is what went down…
Ambivalent @ Bigfoot's 2nd Birthday (Dec 2010)
Our first major guest booking probably came at the 2nd birthday, up at the old Art School when Ambivalent joined us for the first time. It sort of took Bigfoot's up a level and we were all a bit shocked at how busy things were getting each month. On this night I remember a few folks had been a bit gutted that the Subbie had Octave One playing at the same time, but it was still rammed right from doors opening. Half way through his set Kevin (Ambivalent) dropped Blackwater and the place went nuts.
No one had mentioned to him that the guys were playing down the road, so he was either on the ball or it was just a happy coincidence. Either way, most people involved with Bigfoot's always highlight that party and that track as a stand out moment.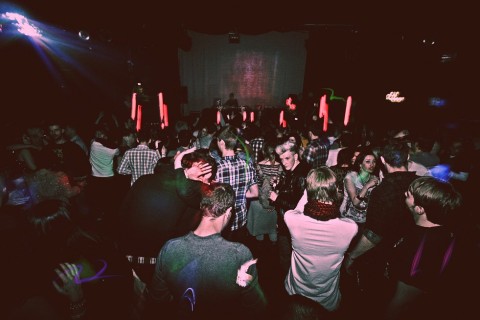 Courtyard Closing Weekend (July 2010) 
The Courtyard was a special venue for everyone that went there, whether it was for parties or just to hang around during the week. There hasn't been anywhere in Glasgow fill the void it left after changed hands a few years ago. To mark the ending of the era, Ronnie and Sharlyn who ran The Courtyard decided to have a 24hr party, of which we took control the Saturday night for. At this point Simon Stokes and Hans Bouffmyhre were still residents at Bigfoot's along with Chris and Bell, and I think the fact that it was a bittersweet weekend, that everyone knew we were closing a chapter, made for an extra special party. The place got trashed, but it was one of the friendliest and closely knit crowds I've seen involved in clubbing in Scotland. Everyone at the Courtyard, people who worked there, played there, partied there, they were all doing it for the right reasons, and that's what made the place so much fun.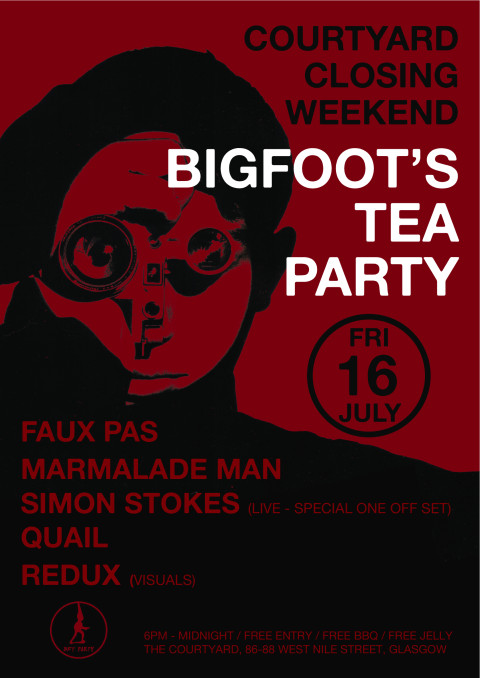 Butane @ The Goat (May 2011) 
After the Courtyard, we moved down to Argyle St for a couple of daytime parties, to a venue that wasn't really expecting us. The Butane (Little Helpers/Alphahouse) gig was something else. If you don't know The Goat (which is now unfortunately a Happy Lets estate agents!!), it probably holds 250-300 people (at a push), over two levels, with a mezzanine above and giant floor-to-ceiling glass windows which open out to give you a really cool indoor/outdoor venue. Pack it with too many people and too much FunktionOne and you are asking for trouble. So midway through the day with things in full swing, the Council turn up in a van and 4 or 5 guys in suits, telling the owners we better shut things down right away. The owner said no, and after heated discussions about when we would finish and how loud it would be, the van left. After that scare, we decided to shut the outdoor area and squeezed everyone inside, so everything just descended into chaos, but a good kind of chaos, when sweat drips from the walls and no one will leave when you turn the music off. The owner definitely regretted pissing off the Council though, and probably his neighbours, so we were never allowed back and the place is now and estate agents…but Butane gave us one of the best DJ sets we've seen at a Bigfoot's.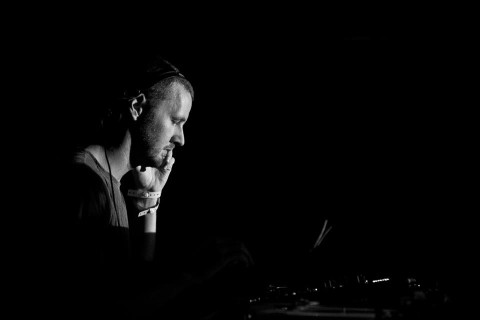 Aberdeen After Parties (continuous) 
Bigfoot's have been residents at Snafu for a long time now, it's where most of the original members met while at University or college. Aberdeen is a strange town, a lot of the time you feel that not much happens, but there is something special about Snafu which pulls the city off it's arse. We've seen some of the craziest crowds squeezed in there, and they can go on for as long as any town.
Because when we started our Friday night residency in Aberdeen we were traveling up from Glasgow with a fair few people, it seemed wise to put on after parties so that everyone had something to do until the first bus or train back down the road. First off we just used basements or recording studios. But as the parties got bigger, we had to find larger and more out of the way spaces. That's when the fish factories and warehouses came about. It's not good to talk publicly about these, but they make me think of what raves in the 80s and early 90s might have been a bit like – completely DIY, under the radar, and most likely ending with someone in the cells.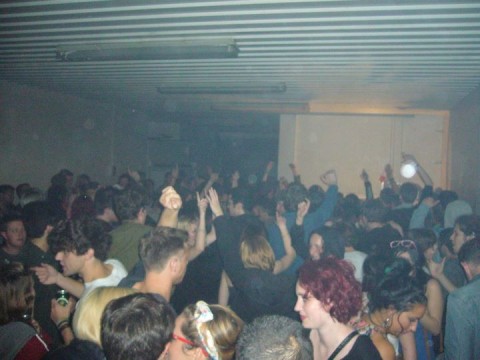 Weatherall v Smagghe @ Bigfoot's 4th Birthday (Dec 2012)
Our 4th birthday is the only night we've ever done with residents not playing at all, so that shows you how much we respected the guests! Andrew and Ivan were buzzing before doors opened and kicked off as soon as the first person was on the dance floor. Must have listened to the recording of that night a million times. It's going to be hard to match, but Roman Flugel this Friday at Sub Club is the perfect way to follow up such an act.
https://soundcloud.com/snafusoundsystem/weatherall-smagghe-bigfoots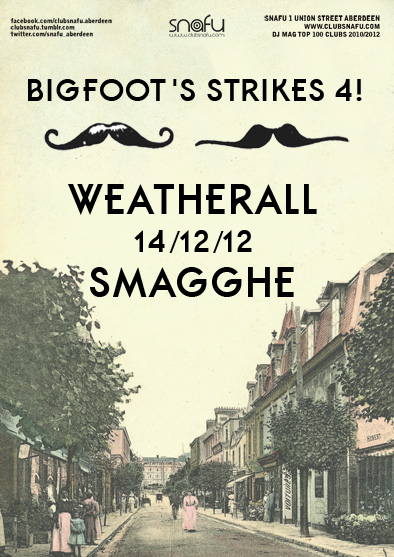 For your listening pleasure here is Roman's Boiler Room Session from the summer at the Easter Electric festival…
TICKET WILL BE AVAILABLE ON THE DOOR FOR THIS EVENT
16:17 • 3 Dec 13