We are delighted to welcome Kaidi Tatham of Bugz In The Attic for Modal!'s first date of 2015. After a successful first instalment back in June with JD Twitch, Modal! will now take place bi monthly at Sub Club, a series of guests who are perhaps better known for their talents within electronic music but all share a real passion for music with its roots in black culture will be playing. A unique opportunity to take a journey through some of the best record collections in the country.
Bugz in the Attic is an all-star broken beat crew of DJs and producers based in West London. There success includes "Booty La La" which reached the UK Singles Chart, as well as remixing for Amy Winehouse, Basement Jaxx, Brazilian singer Ruben Blades, Rosin Murphy, Jazzanova, Amp Fidler, 4 Hero and more. They ran the infamous club Co-Op for many years in London and have played there infamous sound all over the world for many years.
Kaidi Tatham (also known as Agent K) is a member of the Bugz in the Attic collective, keys player for The Herbaliser Band on stage and involved in many projects, most notably his collaborations with 4hero's Dennis McFarlane: 2000Black, DKD (with Daz-I-Kue), Silhouette Brown and Da One Away (with Ian Grant aka IG Culture). Kaidi has been working with his Bitasweet label-mates on various projects, including Neon Phusion (with Alex Phountzi and Afronaught), blakai (with Mark Force), Misa Negra (with Daz-I-Kue), afro force (with Afronaught and Mark Force), but also with broken beat innovator IG Culture as Likwid Biskit. Gilles Peterson recently called him the UK's most gifted temporary keys player, which he proves constantly in live-performances like the Freesoul Sessions with Mark de Clive-Lowe. We sat down for a chat ahead of this Thursday's Sub Club event…
What did you listen to as a child, when you were growing up? 
"As a child I listened to Earth Wind & Fire, Shalamar, Michael Jackson, Peter Tosh, Bob Marley, lots of lovers rock, Tribe called quest. There was so much music around me at an early age."
What influenced you musically ten years ago, and now? 
"Ten years ago I was influenced by a lot of Brazilian music – Egberto Gismonti,Tania Maria, Jorge Ben, Burnier & Cartier, Ana Mazzotti, Tim Mala. Now, there is so much. Snarky Puppy, Dego Ranks, Akwasi Mensah, I still listen to Dilla everyday, and go back to the 70's and 80's. Kaytranada is dope, Eric Lau, Elbernita Twinkie Clark. If I could list them all, I would be writing all day!"
Do you still collect records? If so, what was the last record you bought?
"I still collect records. Not as much as I used to. The last record I bought was The Sylvers 2"
If you had to choose five records you could not live without, what would they be? 
"5 records i could not live without!!!! A tough question. I think it would be:
1. Herbie Hancock – Chameleon
2. Marvin Gaye – What's Going on
3. Earth Wind & Fire – That's the way of the world
4. A Tribe called Quest – Peoples' Instinctive Travels & the Paths of Rhythm
https://www.youtube.com/watch?v=QXzmp9KUWSo
5. Freddie Hubbard – Red Clay"
What has been your favourite year for music and why? 
"My favourite year for music is the 1970's. Music was very experimental across all genres. It seems to me to be an upbeat decade where music is concerned."
Tell us of a memory that stands out in your mind as a night you would never forget?
"A night i will never forget is when I was on tour, with Mark de Live Lowe. About 12 years ago. He took us to a night club where DJ Spinna was playing. We were very merry lol."
As we took to the dancefloor, I was showing of some moves. I could dance good back in the day. I'm getting on now. I remember going to get a drink from the bar, then a group of people circled me while i was dancing, then I was just surrounded by the whole club. With my Black Kangol and white shirt, and arms in a v shape. Good Times!"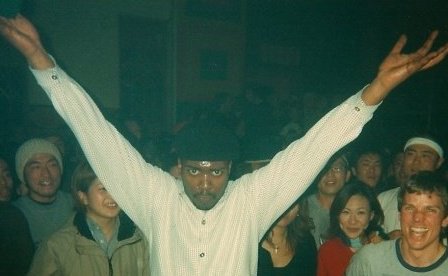 What styles of records will be in the bag for Modal?
I" will be bringing Funk, Soul, Brazilian, Boogie, Hip Hop, House & some Broken Beats I'm looking forward to it!"
Modal! Will take place Thursday 26th February at Sub Club with Kaidi and Rebecca Vasmant. Expect an eclectic evening of Jazz, Latin, Funk, Electronic, Afro Beat and more.  Advance Tickets on sale from RA. Facebook event for further info HERE.
08:15 • 23 Feb 15