This is it, bringing 2014 and Subculture's phenomenal 20th anniversary year to a close, Harri and Domenic bring down the curtain, and no doubt the whole house, with the mighty Chez Damier front, centre and very much to the fore for NYE. Through KMS, The Music Institute, Prescription and much more, Chez Damier has rocked, released and run so many inroads and influences across Chicago and Detroit's subcultural musical landscape and legacy that it's impossible to quantify properly on paper.
Ahead of his return to Glasgow for the end of the 20 Years Of Subculture celebrations, we chatted to Chez about the early days, his motivation, New Year resolutions and Subculture memories…
The term "house music" – there are as many stories about its genesis as there are records that fall into the genre. What are your thoughts on where it came from? What does it meant to you?
To be truthful I believe "house music" is just the evolution of disco and early electronic music, the only reason I might believe this is that I was there when the transition went from Disco to Italian electronic to UK dance music of the early 80's prior to House Music.
Click HERE to watch Chez talk about the movement of electronic Dance Music…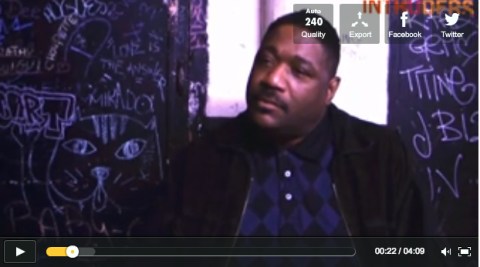 Was your love for house music mainly fed back in Chicago, Detroit or New York in the 80s? What did you find there in the small hours and was this your first proper clubbing experience?
I was very thankful to experience the beginning days of Frankie Knuckles arrival to Chicago, to the underground Club scene in Detroit to the fruitful era of the club scene in New York. I had missed a few opportunities to experience the "Paradise Garage", I did manage to experience "Traxx", "Red Zone" and "Sound Factory" bar and Club. For me I would for sure not be doing what I do in the music business had it not been for those experiences. To explain more, we would need the audio version of my reply to fully get an understanding.

https://soundcloud.com/lhanson/frankie-knuckles-at-sound-1
After all this time in the industry how do you keep motivated? Do you ever feel you have "been there, seen that, done that? Do you feel fortunate to still have a passion for it?
Oh, I keep motivated because of the love and passion I have for mankind. There is a lot I have not done or seen and would like to experience. When I think of the freedom and the smiles that people experience I feel more like a Minister of Music, and feeling like` the club is my night time Church, where the healing takes place.
How important is the role of the resident DJ?
It's very important, these resident are the real teachers of this culture, the rest of us are like guest speakers to their classrooms. If there were not for the resident dj, there would be not need for the rest of us who are merely the guest.
Why do you think Subculture has latest as long as it has?
Because we the people need it, in fact We should be running the world.

What was your first impression of our Harri & Domenic's Subculture?
WOW! Seeing that I have had the opportunity to be a guest of their's for almost as long as the party has been running, I am very thankful for them. I told Harri that if I look into history he might be the longest running Master in the game that is active in the culture at the moment.
What are your expectations of returning to the party and to Glasgow?
There are no expectations, one of the things I have loved about Glasgow over the last 20 years is that the people are real, and that's the real deal.

If you weren't on tour at NYE, what would you be doing?
Well I have not had a NYE at home for the last 6 years, I would not know, maybe having a quite time with my wife.
Do you have any New Years resolutions for 2015?
Yes many, and one is to be more of help to those that are in need. I would love to create a foundation for electronic artists and producers to help them after the hype is gone and they need some assistance financially, mentally and emotionally when times get hard. I have been thinking on this for many years, so hopefully I will get the missing pieces to this puzzle this coming year.
Do you have a particular birthday message for Harri & Domenic?
Happy Birthdays guys, you have made such an impact for over 2 decades and I am honoured to be a part of this time among you. I might give you a Happy Birthday solo (lol!)
Chez recorded this mix for Harri & Domenic ahead of New Year's Eve. Listen up…

Chez will join Harri & Domenic for the 20YSC Hogmanay Party with additional support from our own boy wonder Telford, and a special world exclusive debut live set from another local legend, The Revenge.
With 1st and 2nd releases of advance tickets now sold out, the remaining tickets are on sale HERE or in store and online from TICKETS SCOTLAND.
17:07 • 15 Dec 14