Fri 25 January
Era Suite + Sub Club x Stamp The Wax: Astrosnax, Aaron L & Rebecca Vasmant (early show)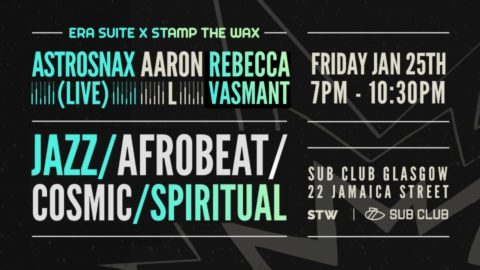 Sub Club and Rebecca Vasmant are teaming up on a new and exciting venture. We are delighted to be bringing Glasgow a new regular party focusing on bringing the best in live and electronic music. Our second event takes place Friday 25th January with live guests: Astrosnax Live: Aaron L (Stamp The Wax) & Rebecca Vasmant.
From 11pm the club will host Floorplan, perfect to catch the music then go onto see Floorplan later.
Glasgow has a fresh and growing Jazz, funk, latin and world music scene, this party will be all about bringing the best in new and fresh talent from the city, and combining them with international and established guests over the coming months.
Jazz, afrobeat, latin, funk, electronic and more.
Expect to dance, dress to sweat.
Huge love! Rebecca, the Sub and Stamp The Wax! ♥
BUY TICKETS
FACEBOOK EVENT