Running a successful club night for 5 years is no easy feat, let alone a weekly one. Sub Rosa is a testament to the fact that commitment and perseverance through the tough times always make the good times worth the struggle.
In the lead up to their final party weekly party on Wednesday we decided to sit down with the people behind the creation of Sub Rosa; Iain Budge, Troy Thompson and Duncan Steel, to find out a few stories that have made the night what it is today.
How did the night begin?
Troy: "The Art School had just announced they were closing down for renovation for a couple of years and I think we were all kind of left in a limbo of where we would go and what we would do…..then the 3 of us met having a smoke one night and decided that we would try and throw our own party that our mates could go to"
Budge: "I think Subculture played a pretty big role. There wasn't many student nights at that time playing a similar music policy and charging affordable door fee's. We went to a lot of weekend nights at the Arches including Death Disco and so on…all of these nights had a pretty strong effect on us.
Duncan: Much of the above to be honest. At the time there wasn't anything on a Wednesday night for the more discerning clubber – well discerning is maybe a bit strong, but just those who didn't think that Lady Gaga, a hot tub and an Elvis impersonator equalled a good night out. So we decided to give it a bash and approached our favourite club with a proposal. We agreed that we would run trial night in May and if successful we would begin weekly after summer. That was way back in 2011…
How did it get to the point it's at now?
Duncan: With a lot of help and a lot of hard work. Our first few months were basically an empty with all our pals but in the Sub Club every week, we owe a lot to them for coming down week in and week out for the first while. It was incredibly good fun and they kept the night alive. However, as everyone got that bit older and people started getting more commitments, that's when there was a bit of a turning point. We began booking bigger guests and we started to see a crowd of regulars who we didn't actually know in advance. I think that was the turning point.

Budge: "So many different factors. Good planning, weekly meetings, bouncing ideas off each other, hiring good DJ's/PR staff and listening/taking advice off the hundreds of people that helped us out over the years. The list could go on, although I think it came down to working together as a team and getting our goals done and completed instead of waiting around and talking about it.
Troy: " Hard work,; getting our hands dirty; lots of steep learning curves; a few arguments; but mainly sticking together and to our plan ( when we made one after year one)"

Why have you decided to close the curtains after so long?
Troy: " We considered doing it last year when we all finished up in education….but we had a few brilliant PRs; Excellent DJs (Max and Joe) and the Club wanting to give it a go which made us think why not!? But hey it wasn't to be and Sub Rosa had a great 5 years doing weekly nights"
Duncan: "It was a hard decision but the three of us who founded it are now at a very different point in our lives. We have graduated form University and are all pursuing different things are no longer were able to commit to a weekly night. It's a shame but we can't give it the attention it needs and we are not able to come down on a Wednesday anymore. I don't think there is any longevity in a night if you are not able to give it your full attention and come down on a weekly basis anymore. Plus, we're a bit dotted about all over the globe just now!"
Budge: "We did think about closing the doors last May as Duncan was off to Madrid for a significant of time, I moved to Melbourne for work and Troy was also offered full on job in Glasgow so none of us could fully commit. We thought we'd keep it going after the significant amount of interest from the club and the guys who worked with us for a number of years."
Who was your first guest/booking and how did it go?
Duncan: "Clouds, Those edgy techno-heads from Perth. They've come a long way since we booked them, I think that was the first night we got over 250 people through the door actually – it was a really good night! Now they are smashing it, they've played all over and have had some really big releases over the last few years. On yersel lads!"
Troy: "Was it clouds? I think it was Clouds, it was class night….in our eyes anyway… Perth DJs and we had a load of Perth mates so it was a riot!"
Budge: "Yup, it was Clouds. It's great to see how well those guys are doing at the moment.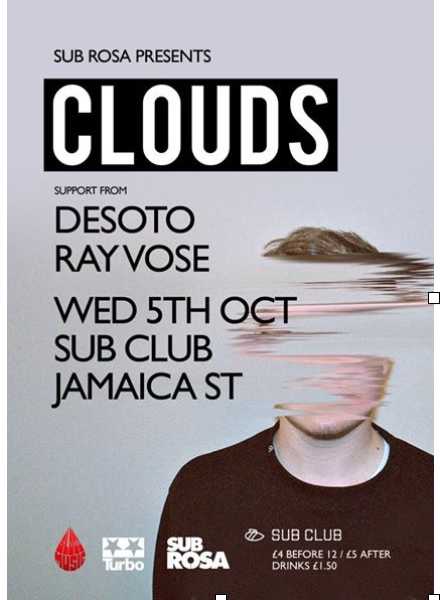 Best set by a guest?
Budge: "Bonobo, Disclosure, Heidi, Ben UFO, Midland, Jackmaster and George Fitzgerald stand out for me. Local acts/nights including Melting Pot, David Barbarossa, Stay Fresh, Jasper James and Thunder Disco Club were always on point as well."
Troy: "Midland…. Ben Pearce….Harri and Dom always without fail! Too hard to pick just one!"
Duncan: "Midland I'd say."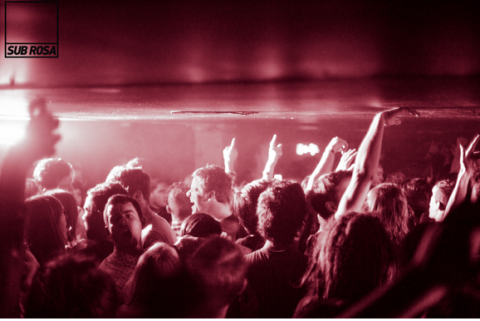 Best story featuring a guest?
Troy: "haha I cant say but there has been a few good ones….always a pleasure having Garry [Ejeca] up!"

Duncan: "There are quite a few that we can't divulge because it's pre-watershed. There were lot's of missed flights."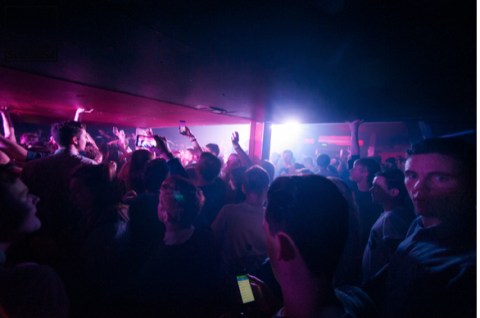 Budge: "Callum Asher commanding a sold out Sub Rosa night with a tambourine in one hand and a bottle of buckfast in the other. Seeing Rui Da Silva wrecked after he played for us at an after party was also brilliant in every possible way."

Favourite Sub Rosa tune moment?
Duncan: "Got to be Pilot Episode – can't think of a specific tune as there were too many to mention but in every one of them they played some absolute gems from across the spectrum. Everything they touched turned to gold."
Troy: "That's a tough one, so many nights that were the 'best night ever.' I think a personal favorite was Midland playing The Rapture – 'How Deep is Your Love' as his encore…everyone just went mental. One of those moments you felt great togetherness with everyone."
Budge: "Midland playing – 'How Deep is your love' was a moment of madness for everyone. George Fitzgerald playing out Danny Tenaglia's 'Music is the Answer' for his encore and David Barbarossa playing out Harold Melvin and the Blue Notes – 'Don't Leave me this way'."
The Rapture – How Deep is Your Love

Danny Tenaglia – Music Is The Answer
Harold Melvin and the Blue Notes – Don't Leave me this Way

You guys have always been a fan of stripping the club down and dressing it up in a certain style so everyone can party in what feels like a whole new environment in their favourite club. From the more recent Paradise Garage night to the Northern Soul night a few years ago, what have been your favourite and what kind of planning/production went into it?
Budge: "We did one night called 'The Factory' where we covered every wall in the Sub Club with Tin Foil (similar to Andy Warhol's studio 'The Factory') – it looked next level, although the club did turn into a sweat box by 2am because of the lights/tin foil combination haha. Despite the weekly nights stopping next week at the Sub Club, we are planning to do more production based events every so often, just not on a weekly basis. We are currently planning our biggest event in terms of production to date up in Aberdeen during the Christmas period…words can't describe how excited I am for this!"
Troy: " Oh easy, the very first Disco Night – Studio 54! That was just fun and I think it was the night that really kick-started us off in Glasgow…. there was such a buzz about it and it was just the right night to do and the right time! To do these nights you definitely need to plan in advance….. I don't think we really knew what we were doing and we had a few ideas that were just laughed out of head office…. a lot this first one was winged on the day! I have to say a big thanks to Javier and the Art School Crew here."
Duncan: Studio 54, I think it was that one and our Paradise Garage night that were our favourties. A lot went into them and we usually handed over the creative reigns to our friends from GSA. It usually took a week or twos planning then a full day in the club decorating – with help from anyone we could grab. They always turned out to be great nights however the Thursday after was consistently grim. We had to get the club tidied and back in ship shape order before the Thursday night promoters came in. This involved a lot of elbow grease on not a lot of sleep – I'd happily forget those Thursdays.
Favourite poster?
Budge: "Hands down the poster with the NASA astronaut Anna Lee Fisher and the Lion image we used for our branding. Our friend Rory (Hammer) did our artwork for the majority of the time and did a great job."
Duncan & Troy: "Yup agreed."
As well as bringing in a variety on international guests you guys have also been responsible for nurturing some serious local talent and have had no qualms about putting them into the limelight of the Sub Club booth. Of all the local nights around Glasgow from the past five years, who has been your favourite (and why?)
Troy: "Ahh they were all class….. Jasper [James] from Stay Fresh was probably one of our first ever bookings and its great to see how far he has gone now. Stay Fresh were also a great night to do collaborations with. It always brought two great crowds together. Thunder Disco – Hammer and Jube, were a personal favorite….They just play the music I like….up there among my favorite DJs! I also really enjoyed Glasgow City Social Club and Void Militia for the techno. Sister Swedge – played great disco music and had an even better name!"
Budge: "The local acts around Glasgow and Scotland were unreal. Glasgow Don's Harri, Dom, JD Twitch, Wilkes, David Barbarossa and Billy Woods were always brilliant. In terms of local nights that we had down, I always enjoyed Thunder Disco Club, Stay Fresh and the guys from Vitamins/Freaky Freaky.
Duncan: Yeah I echo all the sentiments about the local acts about. Far too many to mention them all but TDC, Stay Fresh & Melting Pot stick out for me.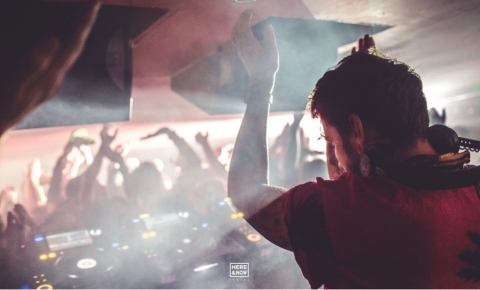 This is it… Sub Rosa every Wednesday at Sub Club has come to an end, and in true Sub Rosa fashion they're going out with as big a bang as possible. Special Guests for the evening are Subbie favourites, Silicone Soul. There may be cake, there'll probably be tears, and it'll definitely be the send off Sub Rosa deserves! Adv. ticket on sale HERE then more on the door from 11pm.
BIG UPS SUB ROSA CREW, IT'S BEEN A PLEASURE x 
15:53 • 24 Apr 16