Sub Hub Glasgow April 2015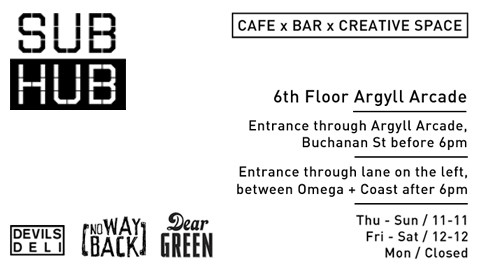 The cafe/bar is open all day and evening, so feel free to pop along, grab a few drinks from our fully licensed bar and tuck into some grub from Devils Deli & NO WAY BACK.
Keeping the radio airplay going throughout the month of April, local broadcast specialists Subcity Radio will be pitching in, streaming live over the four-week period as they celebrate 20 years as the city's top student radio service. With a studio set up in the Sub Hub loft, the team will be working with a range of regular contributors and introducing some special guests throughout the month.
FACEBOOK EVENT