Sat 18 June
Subculture with Harri & Domenic + Luke Una – 18.06.22 ***Limited £5 B4 12 Tickets***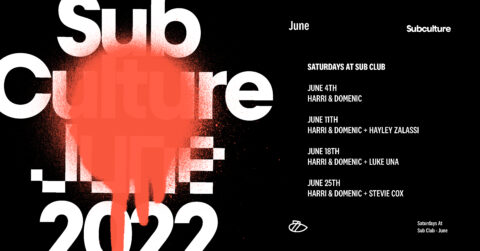 Subculture • June 2022 • £5 B4 12 • Luke Una • Hayley Zalassi • Stevie Cox • Harri & Domenic • 11-4am
We are coming in hot for round 2 of our "Sub Club Summer 2022" shenanigans this June with a Summer Special £5 B4 12 Subculture series! 
This Saturday, we kick start the month with the OG's Harri & Domenic at the controls from Open to Close, with some party starting heavy hitters coming along for the ride across the rest of the month! 
Stepping up June 11th on her Subculture debut is Glasgow's own Hayley Zalassi,  who's making serious waves lately both behind the decks & with her infectious productions. Good times are guaranteed with Hayley at the controls, so come on down and get sassy with Zalassi! 
Then on June 18th bouncing up from Manchester is Homoelectric/Homobloc head honcho & co-instigator of the seminal Electric Chair parties, Luke Una! Luke has long been a force to be reckoned with since cutting his teeth around the warehouses of Sheffield. Luke brings his trademark sound routed in a wild eclecticism taking in all corners from Balearic, to Brazilian to E soul, House, Disco, Techno and beyond! 
Fresh off the back of releasing his widely lauded "E-Soul Cultura", a collection of new, old, rare and undiscovered music from around the world, it seems to be the perfect moment for Luke to make his Subculture debut & we are super excited to see what he pulls out of his record bag for the occasion.  
Last but by no means least, we close out the month with a family affair as Stevie Cox joins Harri & Domenic for her first solo residents special, since she officially joined the Subculture Residents ranks back in April! 
June 2022 Listings
June 4th – Harri & Domenic 
June 11th – Harri & Domenic + Hayley Zalassi 
June 18th – Harri & Domenic + Luke Una
June 25th – Harri & Domenic + Stevie Cox
Limited £5 Before 12 Tickets 🎟 available via @resident_advisor at the link ⛓ in bio above👆or space on the door each week from 11pm!🚪
THIS IS SUBCULTURE.
🎨: Phase 3 of our new Subculture design & art direction courtesy of the wonderful @nick_b_designs 
#SubClub #Glasgow #Subculture #Housemusic
BUY TICKETS
FACEBOOK EVENT