We Should Hang Out More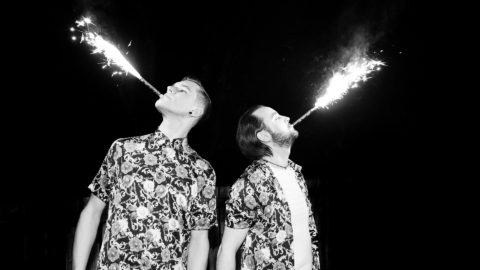 Over the past five years, We Should Hang Out More – aka Oliver Melling and John Markey – have evolved from fresh-faced upstarts putting on small parties on the fringes of the Glasgow scene, rising to prominence among the most highly regarded DJs, party curators and club brands in Scotland – no mean feat in a highly fertile scene that has thrown up international talents like Optimo, Bicep and Hudson Mohawke.
In 2018 we invited them to curate a residency, driving a frequently heaving basement of sweating, air-punching dancers wild with an intoxicating mix of the sounds and rhythms they love.
Markey & Melling have more than earned their spinning credentials. Years into honing their mixing and back 2 back skills, the duo have a deep-rooted synergy with each others selecting styles and for the personality of the crowded spaces on whose ears they deliver those singular skills. Their sets are a finely tuned mixture of method and taste. WSHOM selections progress confidently through disco, funk, house, vocal house, with the duo cutting back and forth, building up excitement, teasing the dancefloor, building energetic mixes and blends with an effortless style.
Their finely-tuned tastes and selector skills further informs their programming, with them hosting a series of rising stars and scene-making favourites at their monthly events in our club, spinning the pre-vibes and handing an already bouncing crowd over to guests including Dan Shake, Honey Dijon, Brame & Hamo and Detroit Swindle while never forgetting their community roots, sharing deck time with emerging peers and scene friends.
The duo are also well into flexing their production muscles. The debut No Mean E.P., initially snapped up by Midnight Riot after hearing only a single demo track, was a sample-heavy production, gaining an impressive 9/10 review in Mixmag, and nailing the download charts. Their follow up Tradeston Knights EP was a rebellious homage to those less-than-official party spaces WSHOM know so well – an irresistible double hitter, half 90's post-acid house big room energy, half retro-pitched dark italo-rave. Both E.P.s were included in Traxsources coveted 'Weekly Weapons' bundle, making their way to dance floors across the globe.