With output on D.A.B.J., Clone and Aus, including his collaborative Hawkes and Blake project we're bringing back Marquis to let his music do the talking once again at Subculture on Saturday. With his new LP on Houndstooth which recently dropped on June 10th, we fully expect this to go down right.
Ahead of the main event we caught up with the mysterious and mindful musical maestro for a rare interview!  Over the next 2334 words we covered, social housing, communist era apartments, the "dying" art of albums, rhythm sticks, juice gardens, festival bangers and Frank Zappa in the kitchen…
First up, nice work on the album!  Was releasing this debut album a statement of intent or has it always been part of the long term plan?
Thank you! I'd never really originally intended to write an album, as with my work as Marquis Hawkes, I'd always felt that it was more of a twelve inch thing, just cuts for the dancefloor. But when Houndstooth first approached me in regard to releasing for them, they asked me if I'd ever considered working on an album. I had always wanted to do something like that since I first started making music many years ago, but never really had an opportunity like that on offer before.
We were delighted when this landed in our inbox, as a full album from a producer in our world is very rare these days. Do you think that the decrease in album production might be down to people not listening or staying focused for long periods of time? 
I think more than anything, that the whole concept of a "Dance Music Album" is very difficult to pull off, in the sense of making it more than just two or three pieces of vinyl which are just like some EPs gathered together. I worked very hard on trying to make music which is a bit deeper than what I would usually make for an EP, and to put them together in such a way, that it has some kind of audio narrative behind it.
I guess also though, in this day and age, it's hard to push an album as a whole when many people prefer to just cherry pick individual tracks, and make up their own playlists. I have to say though, I've been pleasantly surprised at some of the feedback I've received, which has clearly shown that there are still people out there who enjoy listening to an album as a whole, so I don't think the album format is completely dead in the water just yet! 
The title "Social Housing," How did this come about? 
I just looked out of my kitchen window at the identical blocks to mine over the way and it came to me, and just felt right. I quite like the double meaning also, cause you could read it also like "housin'" in a social way, you know, getting down on the dance floor with your mates in a social way. 
Affordable housing seems to be a lot more realistic in Berlin than the UK right now. How do you find the housing and social situation in Berlin compared to "Great" Britain at present? 
Well, it's certainly more affordable in many respects, but that's not to say it's not also under threat. We're suffering in Berlin right now with the vulture investors moving in, and the rent cap hasn't worked as well as it could have done. I'd say the stage we're at here is 10 or 15 years behind how it's ended up in the UK. That said, the fact that there's still a lot of housing under housing association control, that is never going to be sold off should hopefully prevent it ever getting that bad, there's still loads of communist era apartment blocks, like where I live personally which are very affordable, and the housing associations are active in building more housing capacity, the question is though, whether it's going to be rented out at reasonable prices, as it tends to end up that if it's in one of the more trendy areas, it starts getting a bit too close to market rates for comfort, and that just doesn't work when there is a stagnation in wage rises as there has been here over the years. But yeah, we're a long way off people living in garages or warehouses like people do in London these days as they have no other option. The rental market is VERY regulated here also, and for me, this is a very good and necessary thing.
Tell us about your journey into music? Who are your main musical influences from the early days? What was the first album you ever bought? 
I guess the first music I remember goes back to when I was 3 years old, hearing Ian Drury and the Blockheads "Hit Me With Your Rhythm Stick", Donna Summer "I Feel Love" and Stevie Wonder's songs like "Isn't She Lovely" and "Sir Duke," but I think I buried that deep into my subconscious for many years.
My dad was quite into things like Captain Beefheart and Frank Zappa, and also thinking back to those formative years he was listening to the Berlin Trilogy of Bowie albums also, he still has all of those records along with a few Greensleeves reggae 7"s and albums also, so yeah, Reggae was in my musical universe growing up also, I guess that's where the love for bass probably comes from.
Myself, the first album I ever actually bought was a Gary Numan live album, recorded at what was then the Hammersmith Odeon (Now the Apollo), the last date on his Bezerker tour, but to be honest, when I think back, there is just too much to list here, as I've been listening to music my whole life, and have been through many many different phases. The key thing I find as you get older though, is you lose the tribalism rooted in a lot of music styles, as in, being hardcore into one thing at a time, and you lose that embarrassment of perhaps your mates catching you listening to what you might think is the "wrong" thing! As I get older I just like what I like and care less and less about what other people think, which is a good and healthy thing I think.
Talk us through the production of the record. Was it a working progress or a solid 3 months in the studio style? 
It was two years of basically sitting on everything I was writing, not giving anything to anyone other than Houndstooth, which is why I didn't put so much stuff out over the past  year. I had other things which were already finished which came out through 2014, and 2015 to a lesser extent, but yeah, I was pretty much on lockdown in regard to doing any other records for anyone else during that time.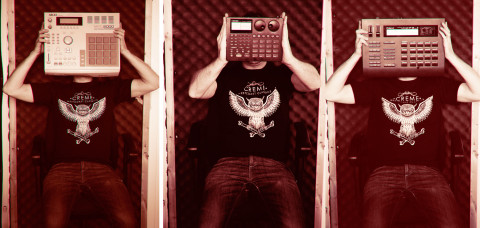 I tend to write everywhere, as I'm always carrying a laptop with me, and tracks grow out of musical sketches. With the tracks I wrote with Timothy Blake, he sent me over the keyboard parts separately, but then we'd finish them off in my studio together, and more generally, that's how I work. I get the rough ideas down, and then spend time in the studio to get them sounding right, so the studio is much more of a post production place than programming to be honest. That said, I did write a few things here and there in the studio also, I have no hard and fast rules really, just whatever is most comfortable, but I couldn't imagine only writing in the studio, I wouldn't get anywhere near as much stuff done as I can when I write on the road or at home in the kitchen.

Do you find that you consciously create new arrangements and sounds or does this come naturally once you're in the zone? 
I think the conscious influence can often come subconsciously, and also you can often start out on something totally copying something else but then it just goes off in a direction of it's own as you strip away the things you don't like and keep the things you do. I'm a firm believer that everything is inevitably a "remix" of something else, whether you do that consciously or subconsciously, but I think even if you try to out and out copy something it still comes off sounding like you.
A lot of your music samples some strong and funky vocal bits. Who are your top three female vocalists? 
Oh, I don't think it would be fair of me to name only 3 to be honest! I like many different vocalists for different reasons, obviously Jocelyn (Brown) is great, Martha Walsh, India, Dajae, Sabrynaah Pope, Yolanda Reynolds, and also a vocalist I found in Scotland who I'm going to be working with a lot more soon!
The track "Something in Yr head" is a personal favourite, this crosses over a whole host of sounds, but the 4×4 UKG vibes are reaching out to me here. Was this "genre" ever relevant to you as a producer? If you could predict a year for another old school revival, when would it be?

I liked the records which influenced UK Garage, rather than UK Garage itself, that was never a scene I really identified with, although hearing Double 99 "RIP Groove" being played all the time on the radio back in the late nineties was kind of entertaining. But that scene was always a bit too "bling" and flashy for my liking, whereas you had underground soundsystem like DiY and Smokescreen playing a lot of the stuff which influenced UK Garage.
I often wonder about some kind of updated New York 'Freestyle" revival, and tracks I made like "Fat Man" I felt were a bit on that kind of vibe. It's a side to my sound I'd like to develop further, which I think could be interesting. No idea if it would ever take off though.
We're honoured to host your album launch at the new look Subbie. Is there any other plans around the album launch? Anything worth a mention for the Subbie's techno tourists? 
Well the big guns like fabric and Panorama Bar are already done, but I'll be doing Space, in Ibiza at the end of the month, so kinda cool to play there before it closes. I am however playing in Berlin again in August also, at Prince Charles, so that could be a good one to bear in mind if anyone from Glasgow is looking for a good time to come to Berlin.
Do you see yourself working on more albums in the future?
Houndstooth signed me for three albums, so there will definitely be more, I already have the basic stylistic concept for the second one already planned out.
What are your expectations of returning to Subculture and to Glasgow? Is there anywhere you want to visit? Favourite cafe or pub? Favourite chippy? 
Taps Aff! That's what I'm expecting! And one of the best crowds in Europe, if not the world. It's often a little disappointing the weekend after playing to a Glasgow crowd, as you go with the expectation of that level of energy, and when you don't get it, you're like "What am I doing wrong?". I definitely want to try and get a visit in to the Juice Garden on Union St, I quit drinking this year, so if I want a wee refreshment, I like a fresh juice these days.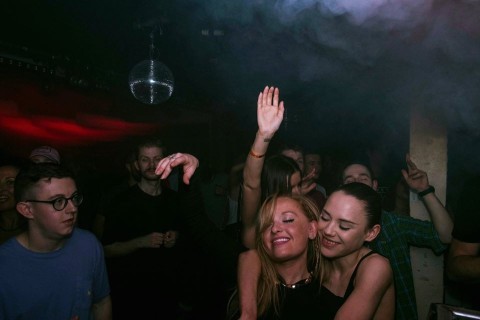 You're also playing for us at the Sub Club tent at TITP this weekend, hypothetically speaking, if you were to close the main stage at any big festival what record would you play? [Apart from your own Social Housing ;)] 
Have to say I think my favourite closing track for a festival would have to be Teule "Drink On Me" which was actually one of the very first records released which was produced by Kerri Chandler. But most often, it depends on which tracks came before as to what I'd play to close, as you gotta keep the flow good.
"Jumpin" by Todd Terry is another good one for that kind of situation also.
We are always interested to hear what other music artists are listening to at the moment. Any tracks or producers that stand out for you recently? 
I am absolutely in love with the new Kink record on Clone right now, that's one of the biggest tracks of this summer, for me personally, also Floorpan "Music/Tell You No Lie", both sides of that record are just killer.
There's an Italian producer called Alex Agore, some of his recent tracks I like a lot, and also a new artist from Finland called Ruolamies, who's an old mate of mine, he's been doing some absolutely killer stuff, so killer in fact that I passed one of his tracks on to Jackmaster, and he's now featuring that on his Mixmag cover Cd which is out on the magazine soon.
Can you list us your favourite 3 home listening tunes with a wee sentence of why you picked each one. These don't have to be house & techno or even dancey, just something you like to listen to post gig, at home.
I generally listen to full albums if I'm listening to stuff at home, but if I had to pick favourite tracks from those albums, then it would have to be firstly a track by J. Dilla from his "Vintage" album called "Doo Doo". There's probably 3 other tracks I could pick out as favourites from that album, but this one is a particularly quirky hip hop instrumental, in a style which I really miss in Hip Hop in this day and age.
Second up would be Boards Of Canada "An Eagle In Your Mind", as it reminds me of a particular time of my life when I was first releasing music, before I was doing the kind of music I do now, and there was a certain vibe in the air, which I really miss, a kind of 1990s hangover or something.
And lastly, but by no means leastly I'd pick Frank Zappa "Who Needs The Peace Corps," which again reminds me of my formative years at the mercy of my father's record collection.
This Saturday at Subculture catch Marquis alongside a very special guesT who will be making his Sub Club debut Too. Advance tickets are on sale HERE or from RA, then more on the door from 11pm.
12:44 • 5 Jul 16